LATEST NEWS FROM GASCOIGNES
Student scheme is progressing well at Walnut Tree Park in central Guildford by our clients, Sladen Estates following the sale of the site to them and the acquisition of adjacent land on their behalf, the site is centrally located site on Walnut Tree Park having been speculatively purchased some years ago with additional land acquired subsequently.
---
ARCHIVE NEWS FROM GASCOIGNES
Gascoignes sell large Residential Development site in Elstead - March 2018
Gascoignes sell large Residential Development site in Elstead - Home Builder Joins Forces with Housing Association to Transform a Derelict former Industrial Site.
---
Gascoignes WINS 'Best Commercial Agents' - November 2015
We are extremely proud to announce that in November 2015 we received for the third time the accolade 'Best Commercial Agents' at the Surrey Property Awards 2015.
We last won the award back in 2014 and also 2012. We very much appreciate the continued support from every one of our customers and clients and the team at Gascoignes look forward to another exciting and successful year ahead.
---
Gascoignes acquire site for new 31 bedroom Retirement apartment scheme for McCarthy & Stone in Godalming - October 2015
Acting on behalf of McCarthy & Stone, Gascoignes have a acquired the former Christian Science Church building in central Godalming. Planning consent has been granted for 31 x retirement apartments with communal facilities, associated parking and a replacement Church building with parking.
Commenting on the transaction, Andrew Russell Director at Gascoignes states:-s "with a rapidly ageing population there is plainly a desire amongst Retirement and Care Home Developers to provide tailored accommodation to meet the needs of those aged over 60, the proposed scheme in central Godalming offers a town centre opportunity whilst being close to open countryside, shops and amenities including Godalming main-line station whilst being readily accessible for main road access and the A3 in particular. We felt the subject site would be eminently suitable for McCarthy & Stone and following detailed and lengthy negotiations with the Vendors and their Advisers, we reached an amicable agreement whereby the vendors were given a new Church facility following demolition of the existing Church building which, it was felt was simply too large for current and anticipated congregations. Construction of the new scheme is scheduled to start next month with practical completion anticipated towards the latter part of 2016"
Gascoignes acquire new offices in Guildford for GCL Solicitors - June 2015
Gascoignes are pleased to announce the acquisition of 2nd floor office at Building 3000 Cathedral Hill Guildford, on behalf of GCL Solicitors. The offices have been built to an Institutional standard and are located on the top floor and extend to some 11,500 sq ft with 47 car spaces. The offices are arranged to provide modern open plan air conditioned offices conveniently located on the outskirts of Guildford a short distance from the Town Centre and A3.
Commenting on the move Andrew Russell Director at Gascoignes comments "The improving Economy over recent months has resulted in a marked take-up of Town Centre office stock however a lack of new Office development in the Town Centre partly due to a lack of opportunities and partly due to Permitted Development has resulted in a shortage in the supply of modern offices in the central areas, this has prompted a number of Organisations to consider moving out of Town Centre which, generally is a more cost effective option and does provides better car parking provision for staff and clients alike. We are of the view that this trend will continue until such time as stock levels improve in the Town Centre"
---
Prime Place to develop Sevenoaks office site into residential - March 2015
Prime Place, Willmott Dixon's residential development business, has agreed to acquire Tubs Hill House in Sevenoaks from Development Securities and convert the commercial premises into high quality residential apartments This deal adds to the company's growing development portfolio following agreement in December with Brentford FC for its new stadium and 1,000 homes, plus a deal in January with The Cheshunt School to fund school enhancements by developing 88 homes on surplus land at their site in Broxbourne.
Tubs Hill House, with a development value approaching £40 million, is located just 200 meters from Sevenoaks' station and is expected to prove popular with people looking for fast access to London while also benefiting from living in Sevenoaks. Construction work will start in Summer 2015. Prime Place was advised by Gascoignes in the transaction.
"This is another example of the versatility and scope of our development capability. Tubs Hill House very much reflects Prime Place's ethos to provide high quality homes in popular locations with good transport links, and we are looking forward to giving a new lease of life to this building once the various permissions have been achieved.
"It is also a further statement of Willmott Dixon's development ambitions to deliver homes for both sale and private rent at scale through our Prime Place and be:here brands. This already includes developing London's first purpose-built community of private renters as part of our 1,176 home Aberfeldy Village in Tower Hamlets, plus the forthcoming Brentford FC masterplan that combines homes for sale and private rent."
Andrew Telfer, divisional chief executive at Willmott Dixon's development division Regen
---
Gascoignes WINS 'Best Commercial Agents' - November 2014
We are extremely proud to announce that we recently won the category of 'Best Commercial Agents' at the WSA Property Awards 2014, we last won the award back in 2012. We very much appreciate the continued support from customers and clients alike.
---
10 x new Houses planned on former Industrial site in Guildford - October 2014
Acting on behalf of private clients, Gascoignes have recently sold a Development site to Local Developers. The site was sold with the benefit of Planning consent for 10 x 3-bedroom houses. Construction is scheduled to start during the next few months. Contact us for further information regarding the Development, completion is being planned for Summer 2015.
---
Gascoignes Voted Property 'Professional of the Year' - November 2013 
Gascoignes chartered surveyors are delighted to accept the award as 'Property Professional of the Year' at the Surrey Property Awards 2013, we would like to thank the Surrey Property Awards for their continued support and all members of the Gascoignes family.
---
36 Home Project - Hindhead, Surrey - June 2013
The former Hindhead Bus Depot fronting the old A3, more recently occupied and owned by Drummonds Architectural Antiques was sold to Thakeham Homes for a figure in excess of £4M earlier in the year. The site, which extends to some 1.50 acres approx has Detailed Planning Consent for 36 x houses and flats and an element of commercial. Thakeham Homes are planning to commence construction later in the Summer. Demolition of the former Bus Station has already taken place.
Contact - Andrew Russell: andy@gascoignes.com
---
137 Home Project - Godalming, Surrey - June 2013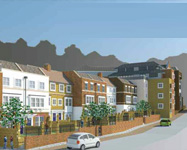 The former Godalming Police Station and adjacent land in the centre of the town has recently been sold to Willmott Dixon for a figure in excess of £10M. Willmott Dixon are proposing to build 137 homes (102 flats and 35 houses) on the site. The anticipated GDV is approaching £50 million. This project is the largest residential scheme in central Godalming, and the Georgian designed theme for the houses will be interspersed with two and four storey apartment blocks. Demolition of the existing buildings (including the ex-Police Station) will take place late Summer with development of the new homes starting in Autumn. Occupation of the new homes is being planned for early 2015.
Contact - Andrew Russell: andy@gascoignes.com
---
Gascoignes Voted Best Commercial Agent - November 2012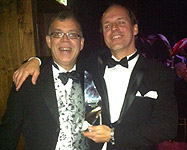 Gascoignes chartered surveyors are delighted to accept the award as best commercial agent at the Surrey Property Awards 2012 which was held together with a gala dinner at G-Live Guildford on 22 November 2012 and featured in the Surrey Advertiser. The photograph is of the two principle directors, Andrew Russell and Charles Chatterji receiving the award.